Jenny & Jack's Wedding - Part Two
Okay, so I am back from vacation and ready to post the second part of Jack and Jenny's gorgeous wedding day.
As I wrote in Part One, Jenny and Jack had a lovely brunch and reception at the Hilton in Beachwood, Ohio. After the brunch, we went to the school where they work to take their bridal portraits on the gorgeous campus grounds. Then we returned to the hotel to rest for a minute, change and head back to the school for a casual afternoon cookout. Here are the rest of the photos from the ceremony, brunch, bridal portraits and cookout!

Venue and Catering: Doubletree by Hilton Cleveland East Beachwood
Wedding Dress: Style #1605 by Elma Reis, purchased at Brides by the Falls
Florist: Tina Gudin from Prestige Floral in Beachwood
Cake and Cupcakes: Bridget Cavanaugh of Flour Girl
String Quartet: Bellflower String Quartet
Catering at the University School Cookout: A Taste of Excellence
Jenny circling Jack.
The first KISS! It started with a smile and they just never stopped staring at each other. It was so beautiful.
The beautiful reception room at the Hilton.
Jenny and Jack had custom M and M's made with their names and wedding date printed on them. YUM!

Jack and Jenny had a small cake to cut and then served cupcakes to their guests. It made for a dramatic presentation.
Tearing up at a lovely toast.
A few fashion-style bridal portraits on the way back to their hotel suite...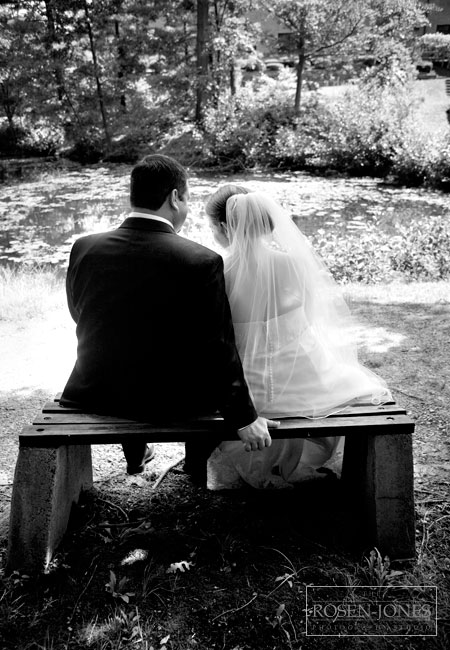 I love Jenny's gorgeous freckles! Isn't her skin amazing?!?!
The beautiful sky and setting for the COOKOUT!
Who doesn't love a cupcake!?!?! The whole cookout was super kid and DOG friendly. Jenny and Jack even invited my family to join in the festivities. How thoughtful was that?
And Jack's mom surprised the crowd with a Bagpipe player and Scottish dancers to celebrate their Scottish heritage.
Here are Jenny and Jack with their baby, Willie (with custom doggie scarf made by Jenny's mom)!