Jenny & Jack's Wedding - Part One
You might remember Jack and Jenny from their engagement session last fall. We took photos on the gorgeous grounds of the University School where they both work. You can check those photos out here.
Jenny and Jack were married on Sunday July 19th at the Hilton in Beachwood, Ohio. The day started bright and EARLY! Jenny was getting her hair done starting at 6:45 am, so I arrived around 7:30 to get started with the getting ready photos. Well poor Jenny had been holding it together, but when she saw me she allowed her inner panic to come out - Her hairdresser had not shown up! She was freaking out, and rightfully so. Long story short, the day was saved by Jenny's Dad and Bridesmaid Sarah who went out to the drug store to get hair products and the two hairdressers assistants who had shown up but had no supplies (all the stuff was with the main hairdresser).
By this point, things were running very late. I reassured Jenny that everything was fine. We had been planning to take the formal photos prior to the wedding ceremony, but we would just take them afterward. I went down to tell Jack what had happened so Jenny wouldn't have to tell him.
The rest of the day went smoothly. Jenny and Jack had an interfaith service directed by the wonderful Rabbi Susan Stone and the Reverend David Mason. The couple mixed a variety of traditions into their ceremony including the signing of the Ketubbah, a Chuppah and Traditional vows. Jenny was walked down the aisle by her parents, while Jack entered prior to the ceremony along with his groomsmen and the Reverend and Rabbi.
After the ceremony their were many moving toasts followed by a beautiful brunch provided by the Hilton. Then Jenny and Jack ducked off for photos back at the University School. Afterwards we headed back to the hotel to change into casual clothing for the BBQ afternoon picnic. All guests (including dogs) were encouraged to come out and relax and eat and hang out some more. There was a buffet of hamburgers, hot dogs, corn and fixings and an ice cream sundae bar.
The big surprise of the day was brought in my Jack's mom - a Bagpipe player along with traditional Scottish dancers to honor Jack's heritage.
The weather was gorgeous, the food was delicious and the company was lovely. Jenny's mom made all the tablecloths at the cookout and made matching kerchiefs for the dogs including Jenny and Jack's baby Willie! Jenny and Jack, I wish you many happy years together and I can't wait to see how your family will grow!

Venue and Catering: Hilton Cleveland East
Wedding Dress: Style #1605 by Elma Reis, purchased at Brides by the Falls
Florist: Tina Gudin from Prestige Floral in Beachwood
Cake and Cupcakes: Bridget Cavanaugh of Flour Girl
String Quartet: Bellflower String Quartet
Catering at the University School Cookout: A Taste of Excellence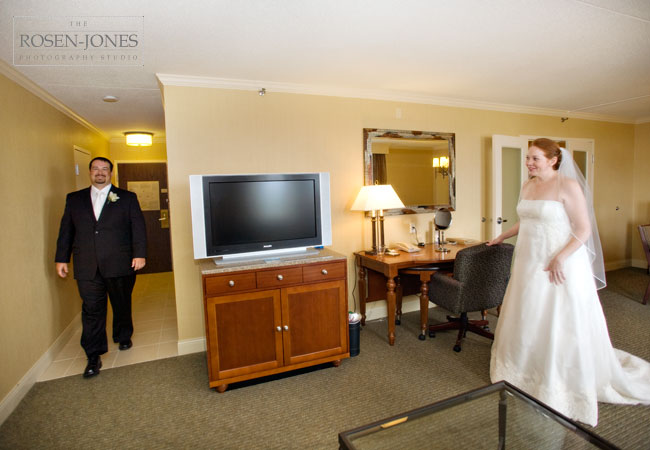 Jenny's parents walked her up the aisle to one of my favorite songs (it was sung at my own wedding) "My Love is Like a Red Red Rose". At Jenny and Jack's wedding this song was performed by two of Jenny's good friends. Here she is being touched by the song.
Stay tuned for the second posting from this wedding!